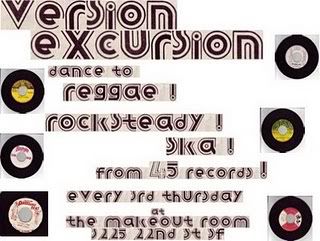 Thursday June 17th @ The Make-Out Room in SF... it's time for "VERSION EXCURSION".

We got enough soul to make a fish sneeze and a fly get down on his knees!

DJs:
Doctor Sappa Too (Roots Knotty Roots)
Adam (Revival Sound System / "Wake The Town" 90.3 KUSF)

We've got fresh tunes on original 45 rpm from Tommy McCook, Prince Buster, The Tennors, Roy Shirley, The Inspirations, Alton Ellis, Derrick Morgan and many more!
"Rocking your soul baby So you can never grow old!"
3225 22nd St. (between Valencia & Mission)