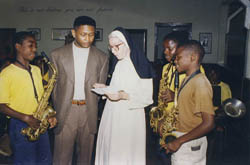 The history of Jamaican music is loaded with examples and stories from singers, musicians, producers, and promoters who never recieved the popular recognition that they desereved. This is especially true for women in Jamaican music, as they rarely receive the widespread notoriety that males in Jamaican music receive. One example of this phenomena is in the story of
Sister Mary Ignatius Davies (1921-2003), who ran the music program at Alpha School for wayward boys in Kingston. The names of the alumni who have passed through Alpha and Sister Mary's music program reads like a list of all-time Reggae and Jazz masters from Jamaica including Joe Harriott,
Lennie Hibbert, Bertie King, Tony Gregory, Owen Gray, David Madden, Lester Sterling, Wilton "Bogey" Gaynair, Leroy Smart, Don Drummond, Tommy McCook, Leslie Thompson who conducted the London Symphony Orchestra, Cedric "Im" Brooks, Rico Rodriguez, Joseph "Jo
-Jo" Bennett, Eddie "Tan-Tan" Thornton, Tony Greene, "Deadly" Headly Bennett, "Dizzy" Johnny Moore, Reuben Delgado, Oscar Clarke trumpeter who toured with Louis Armstong's Band, Johnny Osbourne, Floyd Lloyd, Bobby Ellis, Eddie Thornton, "Spar
row" Martin who now teaches at the school, Vin Gordon, Harold Mcnair, Leroy "Horsemouth" Wallace, and the audacious Winston Foster AKA Yellowman.
Unfortunately, her name is only known to Jamaicans and the expatriate community, as well as to hardcore reggae enthusiasts and collectors. This is tragic since her nam
e and story should be as well known as Bob Marley's or Dennis Brown's
.

Back in 2007, BBC Caribbean put together an excellent oral history of Sister Iggy, her sound system dances, and the young men that she inspired. Take a listen below and he
ar the story that has rarely been told outside of Jamaica. Honor & Respect to Sister Mary Ignatius Davies for enriching our lives!
Sister Mary Ignatius Oral History Part I
Sister Mary Ignatius Oral History Part II